at Southwark Cathedral, London Bridge, London SE1 9DA
All Saints Chorus and All Saints Orchestra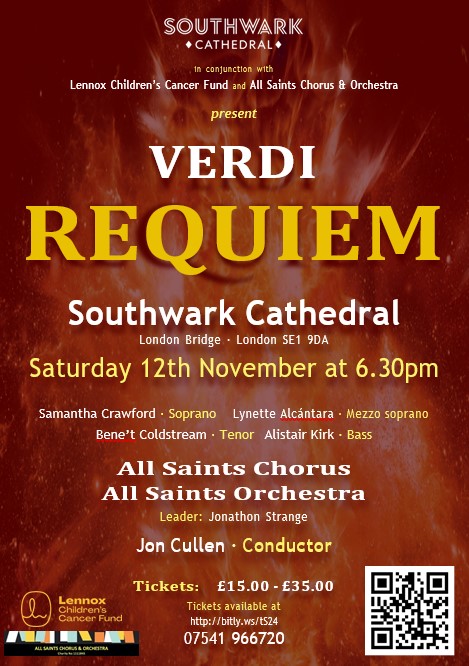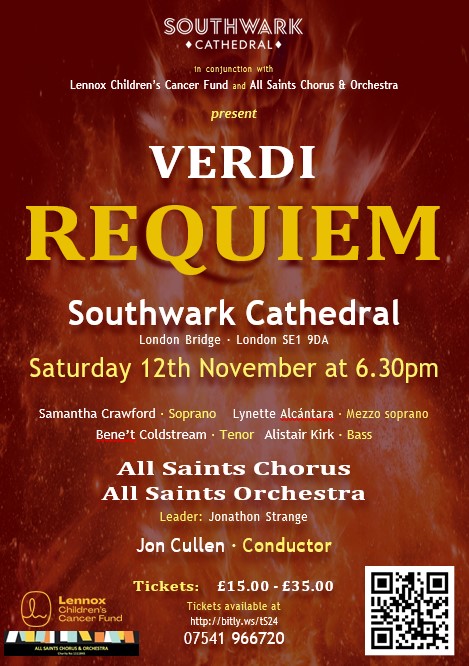 Saturday 12th November at 6.30pm
Samantha Crawford · Soprano Lynette Alcántara · Mezzo soprano
Bene't Coldstream · Tenor Alistair Kirk · Bass
Jon Cullen · Conductor
Leader . Jonathon Strange
Tickets: £15.00 – £35.00
Tickets available at http://bitly.ws/tS24
07541 966720
Two years late – due to Covid restrictions – All Saints Chorus is finally performing Verdi's Requiem at Southwark Cathedral at 6.30pm on Saturday 12th November 2022.
A requiem is a lament for someone who has died, and this type of service goes back at least as far as the 2nd century. Many of us have suffered loss over the last few years, including the sad death of Queen Elizabeth II, and a requiem is a traditional way of lamenting this but at the same time finding peace.
It is also sung in memory of the Jewish prisoners of the Theresienstadt concentration camp who performed Verdi's Requiem, from a single smuggled score, 16 times between 1943 and 1944. In refusing to forfeit their humanity, the prisoners showed the power of music to foster hope and inspiration even in the face of monumental suffering, disease, and the constant presence of death. Their conductor Rafael Schächter told the choir, "We will sing to the Nazis what we cannot say to them." As a result of these performances the requiem is also known as the 'Defiant Requiem'.
All Saints Chorus, based in West Ham, are delighted to be presenting this famous choral piece at Southwark Cathedral. Details of how to purchase tickets can be found above.
We are a community choir and welcome all singers and more details about the Chorus can be found at https://allsaintschorus.org/ and https://www.facebook.com/allsaintschorus