Fire on the Green – July 2nd 2022 6.30pm
at All Saints Church, West Ham
The Stratford Martyrs
On the 27th June 1556 eleven men and two women were burnt at the stake in or near to Stratford in East London. The exact site is unknown but a memorial was erected in the churchyard of St John's Stratford in 1879. Fire on the Green is a dramatic choral work with music by Jon Cullen and an emotional libretto by Marva Rees. First performed in West Ham church in 2012 this will be the third performance. The church is connected to the execution through its vicar at the time, Revd Thomas Rose, who spoke out against the burnings and was removed from the church and sent to The Tower of London. He was reinstated as vicar of West Ham when Elizabeth I came to the throne.
The All Saints Chorus & Orchestra, Newham's premier ensemble continues to make a name for itself and will, on November 22nd perform Verdi's requiem at Southwark Cathedral when it returns there following their sold out performance of the Mozart Requiem in 2019.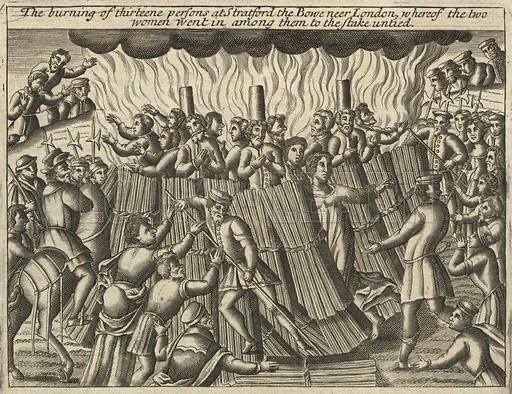 'Early on the morning of the 27th June, being the day appointed for their execution, they were conducted from Newgate to Stratford-le-Bow.' (Bradford). Delivered at Aldgate by the Sheriffs of London to the Sheriff of Essex, as in the cases of Dr Taylor, Highbed and Causton, they were placed in three carts, pinioned, and commenced their last journey. The cavalcade under guard moved through Whitechapel, along the Mile End Road, over the bridge at Bow to the village green of Stratford.
Early booking for Fire on the Green is recommended.

Please find attached the QR code for Eventbrite.
The url is:
Tickets: £15 with £12 concessions